(612) 338-8867
(651) 578-8867
(952) 448-8867
(763) 788-8867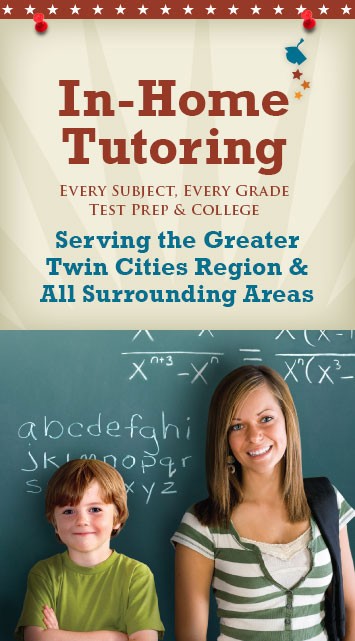 Personalized, In-home Tutoring for Students Throughout Minneapolis
Tutoring for Every Subject and Every Grade Level
With a private tutor, Minneapolis students gain an advantage in handling coursework and tests. Whether it's a fourth grader struggling with math homework or a college junior who wants help with writing essays, Grade Potential provides the tools that empower individuals to excel. We've helped thousands of students throughout our history and are ready and waiting to help your child (or you!).
The Tutor Minneapolis Kids Need to Succeed
Forget generic tutoring from generic tutors; at Grade Potential, we provide personalized, one-on-one tutoring for students in a way that's catered to them. We come to you on your schedule and at your location so that getting academic support is easier than ever. We'll help you reach your specific academic goals in a way that's best for you!
Overview of Grade Potential Tutoring Subjects and Classes
Whether your child is having a difficult time succeeding in kindergarten, preparing for a graduate school entrance exam, or anything in between, Grade Potential has a tutor to help turn things around. Our tutors cover virtually every subject and class level from kindergarten through college, and have experience working with children or young adults who have faced the same type of challenges your young student is encountering. Here is an overview of the tutoring services we provide:
Elementary School Tutoring — Grade Potential only uses credentialed teachers with our elementary students, unless specifically requested otherwise.
College Tutoring — Tutoring available for virtually all subjects and majors, including calculus, statistics, chemistry, physics, English, reading, writing and essay tutoring.
Foreign Language Tutoring — French, German, Italian, Japanese, Russian, Spanish and more.
K-12 Tutoring — Elementary, middle school and high school: all grades and all subjects, including math, English, foreign language, science, social studies, and reading and writing.
Math Tutoring — Algebra, calculus, geometry, statistics, trigonometry and more.
Psychology Tutoring
Science Tutoring — Chemistry, physics, biology, earth science, physical science and more.
Social Studies Tutoring — U.S. History, World History
English Tutoring — Spelling & Grammar, Literature, ESL, and more.
Reading & Writing Tutoring — Grade Potential provides the highly individualized, in-home tutoring to empower students to read and write well!
Test Prep Tutoring — Includes SAT, ACT, ASVAB, GRE, GMAT, LSAT, MCAT, CBEST, CSET, TEAS, PSAT, STAR, SSAT and ISEE.
Signs Your Child or Young Adult Needs a Tutor
One of the big challenges in tutoring is the reluctance many parents have to recognizing the need for it. This is not a criticism; it is just part of being a good parent. Parents sometimes think their child can pull out of an academic slump on his/her own, or they themselves can correct the problem by spending more time with their child on homework or preparing for a test. In some cases, parents may not be able to see a problem at all, or the extent of it.
Professional tutoring from Grade Potential is the solution to overcoming academic problems:
Grade Potential tutors are proficient subject matter experts in their field. They know what they are talking about!
Grade Potential tutors are highly trained in teaching, enabling them to effectively communicate their knowledge and motivate your child to learn.
Grade Potential tutors conduct their tutoring sessions in your home, which is enormously convenient for you and conducive to your child's learning.
How do you, as a parent, know when your child needs a tutor? Here are some things to look for:
Declining grades.
Teachers noticing a drop in your child's motivation or negative change in attitude.
When your child is not interested in going to school.
When your child becomes reluctant to discuss school or a particular class.
When your child constantly needs to be poked or prodded to do homework for a particular subject, or in general.
When your child seems to be spending too much time on homework.
When your child has difficulty explaining subjects he/she is learning or are supposed to have learned.
In all of these situations, there could be something going on in addition to or instead of being challenged academically, but in many cases, they are symptomatic of just that. When children or young adults struggle in school or test preparation, they can quickly lose confidence and become frustrated. When this happens, they may tend to lose interest in school, and begin to fall into a downward cycle of losing interest in other things as well.
Why Grade Potential Tutoring?
Because Grade Potential tutors are skilled in their subjects and teaching, they give your child the best of both worlds — knowledge and motivation. Gaining the knowledge to pass a test or a class is a good thing in itself, but when a child or young adult is motivated to learn, it can be an attitude that lasts a lifetime — one that can make the difference between a successful and unsuccessful career.
Grade Potential also conducts careful, thorough background checks on all of our tutors, so that you are getting only the most qualified people to work with your family.
Grade Potential is a national tutoring organization, and everyone on our staff is committed to helping your child succeed at school. Our customer service team is the best in the business. When you have questions about scheduling, billing or any other issue, you will be talking to a customer service professional whose only interest is getting you a satisfactory answer as quickly as possible.
Speaking of scheduling, all Grade Potential tutoring is done in your home. Our goal is for your child's tutoring experience to be fruitful, but also convenient. We know how busy you are, and with Grade Potential, you won't have to juggle family schedules to get your child to and from a remote tutoring session.
In-home tutoring is also very conducive for an effective learning experience. Some children (and even young adults) are distracted or physically uncomfortable in an off-site setting. In contrast, the home is a comfortable, safe environment where your child can focus on the problem at hand — mastering a subject or preparing for a test.
Serving Minneapolis, St. Paul, Bloomington, Brooklyn Park, Plymouth, Woodbury, Eagan, Maple Grove, Burnsville, & all other Greater Twin Cities Communities!
Minneapolis, Minnesota Skyline
Minneapolis Scholarship
Grade Potential Tutoring is proud to provide Minneapolis students with the opportunity to win a semi-annual college scholarship of $1,000! We are proud to assist students with their investment in education. Many local families trust us with their educational investment on a regular basis, so we feel great about giving back in a similar way! Click below to learn more about our scholarship program and how to apply.