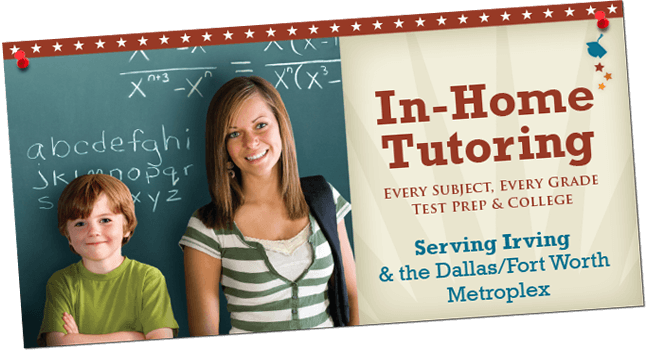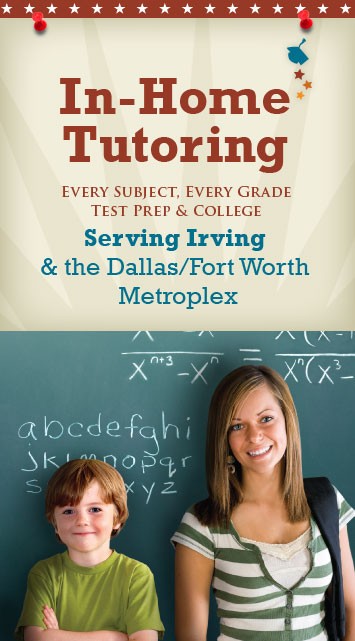 Tutoring in Irving Texas, Right in Your Own Home
Irving Tutors for Irving Students
At Grade Potential we utilize only the highest quality personal tutors in Irving Texas, and the surrounding areas. Our tutors cater to students of all grade levels and in all subject matters. From lower elementary grades to grad school, we provide Irving tutors who know how to help students achieve their academic goals. We've worked with thousands of students, so we know what it takes to push students towards greater success!
Tutoring on Your Schedule
At Grade Potential, we know how hard it is to work around everybody's schedules in your family—that's why we don't ask you to work around our hours; rather, we work around yours. Your tutor comes to you at your specific Irving based location and on your schedule. Tell us when to be there, and you can count on us! Whether you live in downtown Irving or in the outlying areas, we can schedule your tutoring services within 48 hours—or even faster! Rather than tracking down a tutor and juggling a schedule, you can have us come to your home, or meet at any location of your choosing in Irving.
K-12 Tutoring
Whether your child is in one of the Irving Independent School District's elementary schools, middle schools, high schools, or even a Charter School such as Winfree Academy Charter School or a private school such as St. Luke's, Grade Potential's personal in home tutors provide the academic tools for success. We tutor all subjects/classes including Math, English/Reading, Science, Foreign Languages, and all others! No need to fight traffic and juggle schedules to attend a tutoring center or learning center. We provide uniquely qualified one on one tutors that come to you!
College Tutoring
College is great – but the classes can be tough! Grade Potential offers excellent private tutors for all college majors and subject areas. Whether you attend University of Dallas or North Lake College, we will connect you with the best college tutors around! Whether for a single class or multiple classes, we can handle any request for tutoring services that best suits your needs.
Test Prep Tutoring
Knowing how to take standardized tests well is an acquired ability for many students–and that's why Grade Potential offers test prep tutoring catered to you. We know how important it is to head into standardized tests feeling confident and able to perform when it counts. We can swiftly arrange a tutor that can lead you to success with the ACT, SAT, LSAT, PSAT, SSAT, STAAR, MCAT, GMAT, GRE, ISEE, ASVAB, and most other standardized tests.
Grade Potential gives you a personal tutor for the specific coursework you're taking, whether it's elementary school math or college-level physics. Through our personalized attention and expert tutoring, we give you or your child the tools you need to achieve academic success.
Getting Started Is Easy, Call Us Now!
---
Some Thoughts on Schools in Irving Texas
There are many excellent schools in Irving, Texas and we here at Grade Potential Tutoring like to celebrate local education. Let's face it, as cliché as it sounds, our young people are our future. We should always support and celebrate young people everywhere as they prepare themselves for a fulfilling life in today's ever-changing world. Students and parents alike report that the nurturing environments in schools like La Villita Elementary School, contribute immensely to their students success in subjects such as in mathematics, English, spelling, reading and science.
Irving schools are diverse, from the engineering and hard science oriented to liberal arts and humanities centered schools, like Grand Prairie Fine Arts Academy. The main concern for many parents is that their kids be treated with respect and that the methods used to teach them are creative, engaging and enriching.
High School is an important time in both the academic and social formation of a young person. What happens in High School will often shape a person for the rest of their life. Great high schools in Irving, like Macarthur High School carry a great responsibility for student's future. It seems that many schools in the Irving, Texas area are rising to meet that challenge by offering a variety of enriching extracurricular activities combined with stepping up their academic game with AP, Honors, GT and Dual Classes and other academic premiums.
Irving News
Irving celebrates veterans through...

The Irving Veterans Day program presented by the Irving Veterans Memorial Park Committee commemorated the United States Marine Corps' 242nd birthday as well as celebrating... […]

Imaginations fueled by new playground

Members of the Irving community came together to make children's dreams come true on Thursday, Nov. 9. About 200 volunteers from The Salvation Army, Boys... […]

Set the date!

Salon Saturday at Ratteree November 11, 9:30 a.m. to 2:30 p.m. Get your hair cut for $5 or a pedicure for $10 – among other... […]
Irving Scholarship
Grade Potential Tutoring is proud to provide Irving students with the opportunity to win a semi-annual college scholarship of $1,000! We are proud to assist students with their investment in education. Many local families trust us with their educational investment on a regular basis, so we feel great about giving back in a similar way! Click below to learn more about our scholarship program and how to apply.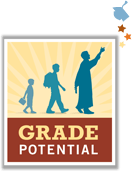 Grade Potential Tutoring Irving
$$
3919 Pleasant Run Rd. #113
Irving, TX 75038
(214) 390-9099