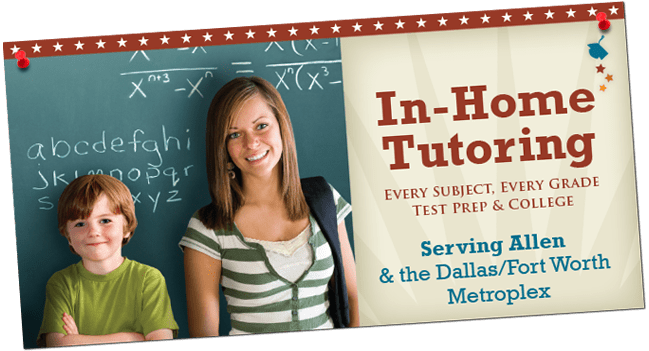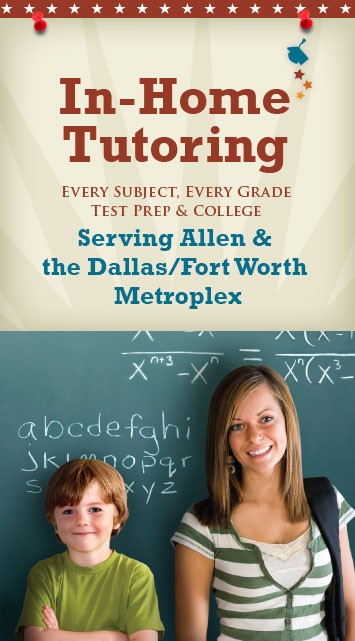 In Home Tutoring in Allen, Texas
Allen Tutors for Students in the Allen, Texas Area
The highest quality personal tutors in Allen, Texas all work at Grade Potential Tutoring. For students of all grade levels and all subject matters, Grade Potential has tutors that will uniquely suit your needs. Whether it be elementary school or grad school, we provide Allen based tutors who know how to help students achieve their academic goals. From ABCs to PhDs as we like to say! We've worked with many students throughout the area, so we know what it takes to kickstart your academic success!
Tutoring Scheduling to Fit Your Needs
Grade Potential knows how difficult scheduling can be in today's fast paced world—that's why we don't ask you to accommodate our schedule; rather, we work around yours. Your tutor comes to you at your specific location in Allen, and on your schedule. Just tell us when to be there, and we'll visit at your convenience. Whether you live near the Plantation Golf Club or Near Quail Run, we can schedule your tutoring services within 48 hours—or even faster!
K-12 Tutoring
If your child is in elementary, middle, or high school, our personal in home tutors bring an academic toolset that leads to success. We have specialized tutors for all subjects and grade levels. Some of our most commonly requested subjects are Math (all levels), Reading & English, All Science classes (Chemistry, Physics, etc.), Foreign Languages, as well as all others! No need to sit in traffic and have schedule anxiety associated with finding and attending a tutoring center or Allen learning center. We provide uniquely qualified one-on-one tutors that come directly to you.
College Tutoring
College classes can be tough! Grade Potential offers quality private tutors for all college/university majors and subject areas. Whether you are interested in assistance with a single class or an entire series of classes, we will connect you with the best higher learning tutors around!
Test Prep Tutoring
Knowing how to take standardized tests well is an acquired ability many of us may not have been exposed to–and that's why Grade Potential offers test prep tutoring just for you. It is vitally important to enter the standardized test process feeling confident about your performance, because it counts!. We can arrange a tutor quickly, that can lead you to success with ACT, SAT, LSAT, PSAT, SSAT, STAAR, MCAT, GMAT, GRE, ISEE, ASVAB, and all other standardized tests.
Grade Potential gives you your own personal tutor for whatever coursework you're taking, whether it's elementary school reading or college-level physics. Through personalized attention and expert tutoring, we give you or your child the tools you need to reach academic success.
Getting started is easy, call us now!
Some Notes on Schools in Allen, Texas
Allen, Texas is home to many exemplary schools. While Allen is also known for its often envied football programs, it is also known for its stellar academic programs that complement the sports to make a well-rounded approach to mind and body. George J Anderson Elementary School and its student oriented staff is an example of an engaged learning facility, that keeps its doors open to the community, which in the end is what it should be since schools are a combination of the students, teachers, parents and the community as a whole.
A positive and holistic approach to education includes rigorous academic practices as well as programs like band, sports and art. Many schools in Allen, Texas, such Ereckson Middle School and Allen High School try to keep this delicate balance in their approach to education. Many feel that"… Allen has challenging advanced academics programs, numerous clubs/organizations, wonderful fine arts, and the best athletic programs in the state. The community is totally supportive of the school and rallies around the successes of the students."
We applaud Allen, Texas' students, teachers and parents for their positive approach to learning and growth! Check out many of Allen's highly rated schools!
Allen Scholarship
Grade Potential Tutoring is proud to provide Allen students with the opportunity to win a semi-annual college scholarship of $1,000! We are proud to assist students with their investment in education. Many local families trust us with their educational investment on a regular basis, so we feel great about giving back in a similar way! Click below to learn more about our scholarship program and how to apply.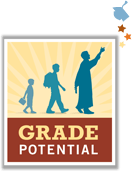 Grade Potential Tutoring Allen
$$
1811 Baltimore Dr.
Allen, TX 75002
(214) 295-9343