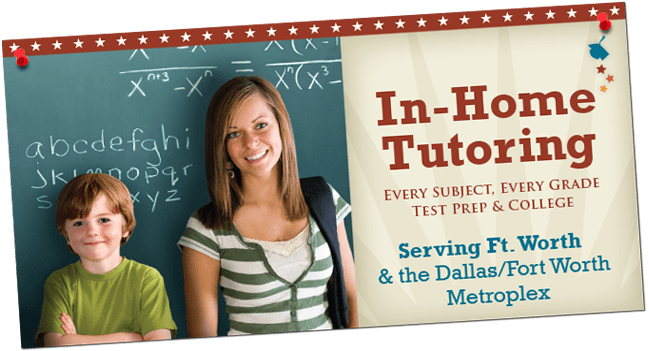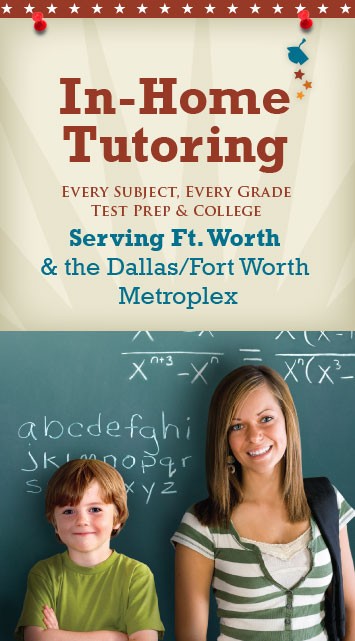 The Best In-Home Tutoring in Fort Worth, Texas
Top Tutors in Fort Worth, Texas
Grade Potential provides quality in-home tutors that are from the Fort Worth, Texas area. We specialize in tutoring for K through 12, College or Post Graduate levels. Grade Potential's tutors always fit the bill, no matter what your tutoring needs are. We provide you with tutors who know how to help you achieve your academic goals! We've worked with students throughout all of Fort Worth so you can trust us with your academic aspirations.
Tutoring Scheduled to Meet Your Specific Needs
Grade Potential understands scheduling in the modern age and inherent complexity that brings with it. That's why we don't ask you to conform to our scheduling; but rather, we conform to yours. We will provide a tutor that will travel to a meeting place of your choosing in Fort Worth, at your convenience. Just tell us when you'd like to meet, and we'll schedule a time that fits your needs. Whether you live near Lake Worth or Lake Arlington, we can schedule a visit from a tutor usually within 48 hours, sometimes even faster!
K-12 Tutoring
Whether your child is in one of the Fort Worth Independent School District's elementary schools, middle schools, high schools, or even a Charter School such as Harmony Science Academy, Grade Potential's personal, local, Fort Worth based tutors provide the academic tools for success. We tutor all subjects/classes including Math, English/Reading, Science, Foreign Languages, and more! No need to fight traffic and juggle schedules to attend a tutoring center or learning center in Fort Worth. We provide uniquely qualified one on one tutors that come to you!
College Tutoring
College classes can be tough and it can take some time to adjust to the workload that is required in the world of higher education! Grade Potential offers excellent private tutors for all university/college majors and areas of study. Whether you attend Texas Christian University, The Art Institute of Fort Worth, Texas Wesleyan University, or any other local College, we will connect you with the best higher educational tutors around! It doesn't matter if it's for a single class or multiple classes, we can handle any request for tutoring services that best suits your needs.
Test Prep Tutoring
Knowing how to take a standardized test is as important as knowing the subject matter–and that's why Grade Potential offers test prep tutoring catered to your specific needs. We know how important it is to feel confident and ready to perform when it counts. We will arrange a tutor that will steer you towards success with ACT, SAT, LSAT, PSAT, SSAT, STAAR, MCAT, GMAT, GRE, ISEE, ASVAB, and most other standardized tests.
Grade Potential will provide a personal tutor for the coursework you specify, whether it's elementary school math or college-level physics. Through our personalized attention and expert tutoring, we give you the tools you need to achieve academic success.
Getting Started Is Easy, Call us Now!
Some Observations on Schools in Fort Worth, Texas
Fort Worth, as a part of the Dallas/fort Worth Metroplex, enjoys the benefits of being a vital part of one of the most economically prosperous and culturally rich areas of the United States. As such, Fort Worth's educational landscape is in possession of an academic breadth and depth unique to the area.
As far back as the 1920s, schools like Lily B Clayton Elementary School have served their communities with their commitment to providing leadership in education and the stewardship entrusted to them by parents and communities members. Creating intellectually challenging environments to challenge students and prepare them for the challenges of adulthood.
Fort Worth schools offer a wide range of academic, elective and extracurricular activities so that students of institutions of schools like Mclean Middle School are propelled into the next level of their education with the perfect balance of life skills needed in the 21st century. Students can then make informed decisions when it comes to deciding between schools like Trimble Technical High School or other specialty high schools and colleges .If what you've read here has whetted your appetite for more information, explore Fort Worth Schools here!
Stockyards: Forth Worth, Texas
Fort Worth News
Thousands of Tarrant County tax bills...

Several thousand local tax bills have yet to be sent out — despite looming due dates — as Tarrant Appraisal District employees work to correct errors. With just days until … Click […]

He found thousands in cash on the road...

A stranger gave a Fort Worth business owner and his family something to be extra thankful for today. Soofia Malik tells Fox 4 News that her husband was doing his … Click to Continue &raquo […]

Thief steals fire department SUV from...

A thief stole an SUV belonging to the Fort Worth Fire Department at the scene of a house fire in Fort Worth early Thursday and then crashed it into gas … Click to Continue &raquo […]
Fort Worth Scholarship
Grade Potential Tutoring is proud to provide Fort Worth students with the opportunity to win a semi-annual college scholarship of $1,000! We are proud to assist students with their investment in education. Many local families trust us with their educational investment on a regular basis, so we feel great about giving back in a similar way! Click below to learn more about our scholarship program and how to apply.