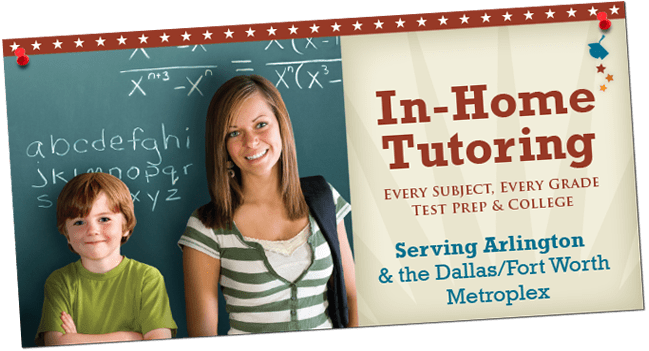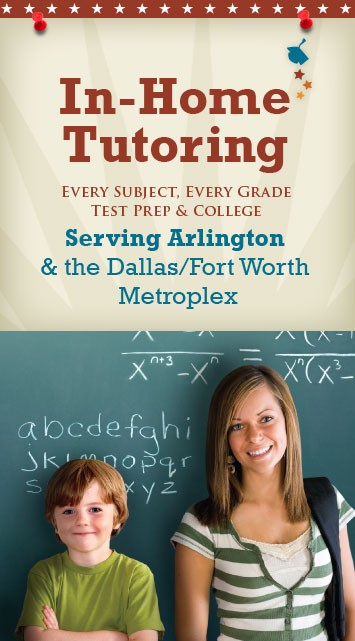 Top Tutors in Arlington, Texas
Arlington Tutors for Arlington Students
Grade Potential provides only the highest quality in-home tutors that hail from the Arlington, Texas area. We provide tutoring for K through 12, College and Post Graduate level education. Grade Potential always has a tutor to fit your unique requirements, regardless of your tutoring needs. We will provide you with tutors who know how to help you surpass your goals! We work with thousands of students each year, so you can trust us with your tutoring needs..
Tutoring That Fits Your Schedule
Grade Potential understands how difficult and stressful scheduling can be. That's why we're concerned about meeting your scheduling needs, not ours. We provide tutors that travel to you, at the Arlington meeting place of your choosing. Just tell us when you'd like to meet, and we'll schedule a time that fits your needs. Whether you live near Waterchase Golf Club or Joe Pool Lake, we will schedule at visit from a tutor within 48 hours, or sooner!
K-12 Tutoring
Whether your child is in one of the Arlington Independent School District's elementary schools, middle schools, high schools, or even a private school such as Northstar, Grade Potential's Arlington based tutors provide the intellectual tools to succeed. We tutor all subjects/classes including Math, English/Reading, Science, Foreign Languages, and more! None of the hassles of traffic and schedules to attend a tutoring, or Arlington learning center. We provide qualified one-on-one tutors that come to your location!
College Tutoring
College classes can take some adjustments to settle in to! Grade Potential offers excellent private tutors for all university/college areas of study. Whether you attend UTA, Brightwood, or anywhere else, we will connect you with the highest quality college tutors around! It doesn't matter if it's a single class, or multiple classes, we can handle your college tutoring service needs.
Test Prep Tutoring
Knowing how to take standardized tests is equally as important as knowing the subject matter–so Grade Potential offers test prep tutoring that fits your specific needs. We know how important it is to feel confident and ready to perform for these life changing tests. We will deliver a tutor that will help you succeed on the ACT, SAT, LSAT, PSAT, SSAT, STAAR, MCAT, GMAT, GRE, ISEE, ASVAB, and most other standardized tests.
Grade Potential will provide a personal tutor for the coursework you specify, whether it's elementary school math or college-level chemistry. Through our personalized attention and expert tutoring, we give you the tools you need to achieve academic success.
Getting Started Is Easy, Call Us Now!
Schools in Arlington Texas Are Great
Arlington, Texas is known as "The American Dream City" and what better dream is there than the dream of a student studying to enhance their future potential? Education is in fact, nothing less than preparation for the future by way of self-improvement. Good educational institutions teach academics but also pass along knowledge and experience of social responsibility. Schools like Butler Elementary School enhance the educational experience with activities like fundraisers for the local animal shelter and outreach programs for kids in need. It is important to the "nuts and bolts" of academic knowledge coupled with community awareness if we really are to shape the leaders of the future.
All aspects of the educational journey from elementary to graduate level is an opportunity for personal growth. Parents and students alike, from schools like Boles J High School to UTA learn more than academics on their personal journey along the road of education and learning. One must never forget, that no matter how much you think you know, there's always more to learn. The goal of education is not so much about receiving answers as it is learning how to better formulate the next series of questions. Ready to learn the next level of questions? Than begin by checking out the many great schools in the Arlington, Texas area.
Arlington News
Grand Prairie woman kidnapped by her...

Authorities in Carrollton are searching for the ex-boyfriend of a 23-year-old woman from Grand Prairie who they believe was abducted on Tuesday. The Carrollton Police Department released a photo of […]

'The holidays are times of crisis.'...

Volunteers at Mission Arlington have been prepping food and filling boxes for more than two weeks. On Thanksgiving Day, they'll deliver the holiday meals to needy families in Arlington, Grand […]

Here's where you can visit the...

In North Texas, you never know if it will feel like Christmas during the holiday season. But a new Christmas festival, Enchant, will provide the look of winter wonderland. Organizers … Click […]
Arlington Scholarship
Grade Potential Tutoring is proud to provide Arlington students with the opportunity to win a semi-annual college scholarship of $1,000! We are proud to assist students with their investment in education. Many local families trust us with their educational investment on a regular basis, so we feel great about giving back in a similar way! Click below to learn more about our scholarship program and how to apply.