(214) 328-8867
(972) 488-8867
(817) 488-8867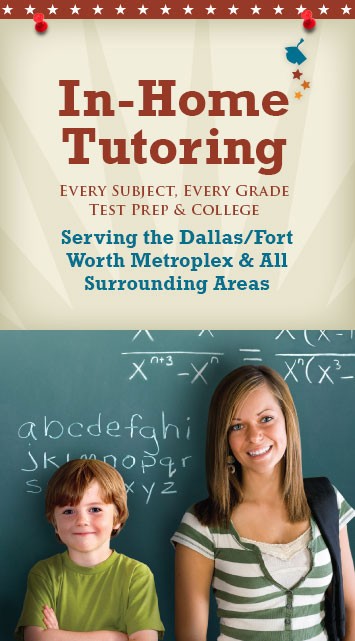 Dallas Tutoring Right in Your Own Home
Dallas Tutors for Dallas Students
Grade Potential has tutors in place throughout Dallas and the surrounding areas, catering to students of all grade levels and in all subject matters. From lower elementary grades to grad school, our tutoring support comes from professionals who know how to help students achieve specific academic goals. We've already worked with thousands of individuals, so we know what it takes to push students toward greater success.
Tutoring on Your Own Schedule
At Grade Potential, we know how hard it is to work around everybody's schedules in your family — that's why we don't ask you to work around our ours, but instead we work around yours. Your Dallas tutor comes directly to you and your specific location and on your schedule. Just tell us when to be there, and you can count on us. Whether you live downtown, in Flower Mound or in Fort Worth, we can schedule a tutoring session within 48 hours — or even faster.
Subjects We Tutor
Extra support can make all the difference in achieving, understanding and acing a test. From elementary through grad school, tutoring can empower a student to deal with difficulties and feel confident in the classroom. At Grade Potential, we provide tutors in all subjects and all grade levels, including the following:
Elementary School Tutoring: All subjects and early learning principles, common core, and more!
Math: Elementary, Algebra, Geometry, Algebra II, Pre-Calculus, Trigonometry Calculus, Statistics, and all others!
English: Spelling & Grammar, Literature, ESL, and more
Foreign Languages: Spanish, French, German, Italian, Japanese, Russian, and many others
Science: Chemistry, Physics, Biology, Physical Science, Earth Science, and more
Social Studies: History, U.S. History, World History, Geography, Psychology, etc.
Reading & Writing: Grade Potential provides reading and writing tutoring to students of all ages, from elementary kids to college students.
All College Level Classes such as Economics, Engineering, Computer Science etc.
Personalized Tutoring Catered to You
When you come to Grade Potential for tutoring, you get more than extra instruction in a particular subject matter — you get personalized, one-on-one support catered to your learning style and needs. Our tutors don't treat every student the same or offer the same cookie-cutter methods to each person. Instead, we get to know you in your environment and work to find ways that will help you understand new concepts and ideas. Our team of talented, skilled professionals knows how to work with students to create positive outcomes. That's why the personalized tutoring we provide truly works.
K-12 Tutoring
We tutor all subjects/classes including Math, English/Reading, Science, Foreign Languages, and all others! Whether your child is in elementary, middle or high school, our personal in home tutors show up with an attitude and the knowledge base that leads to academic success. No need to sit in traffic that would be associated with attending a Round Rock learning center or tutoring center. We provide uniquely qualified one on one tutors that come to you!
College Tutoring
College classes can take some adjustment to get used to! Classes can be difficult and the workload is sometimes overwhelming. Grade Potential offers excellent private tutors for all college majors and subject areas. Whether you attend community college or university, we connect you with the best tutors at the best price! Whether it's a single class or several classes, we can address any type of request for tutoring services.
Test Prep Tutoring
Standardized tests and their results can be life changing, so it;'s no wonder that many students want help with approaching them correctly. Grade Potential offers personalized test preparation tutoring. that can help you achieve the success you seek with ACT, SAT, LSAT, PSAT, SSAT, STAAR, MCAT, GMAT, GRE, ISEE, ASVAB, and most other standardized tests. We know how important it is to start a test feeling confident and capable of performing.
Serving Dallas, Fort Worth, Arlington, Plano, Garland, Irving, Grand Prairie, McKinney, Frisco, Carrollton, Denton, Richardson, Lewisville and All Other DFW Metro Areas.
Downtown Dallas, Texas
Dallas Scholarship
Grade Potential Tutoring is proud to provide Dallas students with the opportunity to win a semi-annual college scholarship of $1,000! We are proud to assist students with their investment in education. Many local families trust us with their educational investment on a regular basis, so we feel great about giving back in a similar way! Click below to learn more about our scholarship program and how to apply.