(713) 228-8867
(281) 238-8867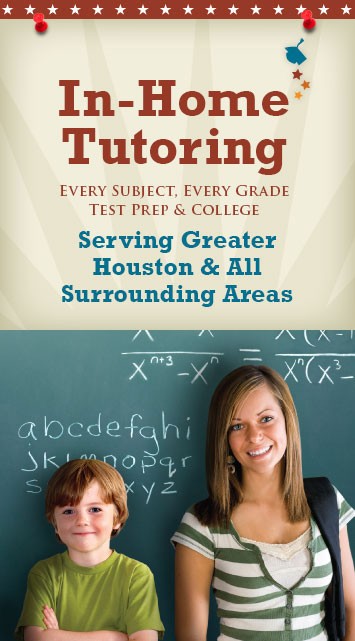 Personalized Houston Tutoring Right in Your Own Home
Local Tutoring for Houston Students
Whether it's for elementary subjects or graduate-level courses, we provide the tutoring Houston students need to achieve their goals. Throughout the community, our tutors have worked with thousands of students in all subjects and grade levels. Let us help you move toward success!
Personalized, Professional Tutors in Houston
At Grade Potential, we know life is busy; that's why we cater our tutoring services to you — on your schedule and at your desired location. Instead of trying to work your hours around our schedule; we work our hours around yours. Tell us when and where to meet, and you can count on us to be there. Call to schedule a tutoring session, and we'll be happy to set something up within 48 hours — or even sooner when needed!
Overview of Grade Potential Tutoring Subjects and Grade Levels
Our professional staff of tutors is comprised of experts in virtually every course and test prep area from kindergarten through graduate school. If your child or young adult is experiencing an academic challenge at any level, Grade Potential can help. Here is an overview of the tutoring services we provide to families in the Houston area:
Elementary School Tutoring — Our tutors are both knowledgeable about elementary curriculum and passionate about helping kids grow.
K-12 Tutoring — Elementary, middle school and high school: all grades and all subjects, including math, English, foreign language, science, social studies, and reading and writing.
College Tutoring — Tutoring available for virtually all subjects and majors, including calculus, statistics, chemistry, physics, English, reading, writing and essay tutoring.
Test Prep Tutoring — Includes SAT, ACT, ASVAB, GRE, GMAT, LSAT, MCAT, CBEST, CSET, TEAS, PSAT, STAR, SSAT and ISEE.
Math Tutoring — Algebra, calculus, geometry, statistics, trigonometry and more.
English Tutoring — Spelling & Grammar, Literature ESL Tutoring, and more.
Foreign Language Tutoring — French, German, Italian, Japanese, Russian, Spanish and more.
Science Tutoring — Chemistry, physics, biology, earth science, physical science and more.
Psychology Tutoring
Social Studies Tutoring — U.S. History, World History
Reading & Writing Tutoring — Grade Potential takes Houston reading and writing tutoring seriously. Through a personalized tutor, Houston students gain the support they need to succeed!
Why Choose a Grade Potential Tutor?
Families in Houston have all sorts of options when it comes to tutoring, so why select Grade Potential? There are a number of factors that make us the best tutoring resource, and here are the most important:
1. Highly knowledgeable tutors
Grade Potential tutors know their subject matter inside and out. You can count on them to evaluate where your child needs help and give him/her the information he/she needs to understand and master the subject or test at hand.
2. Outstanding teachers
Knowing the subject inside out is not enough! Grade Potential tutors are also excellent teachers, enabling them to impart their knowledge effectively, and also to get your child excited about learning. This is tremendously important, because a motivated student is more likely to excel year in and year out, long after the tutoring experience has ended.
3. Carefully vetted tutors
Grade Potential conducts thorough, professional background checks on our tutoring staff, to make sure the person working with your family is as qualified as possible in every respect.
4. In-home tutoring
Your family is busy! We understand how hard it is to juggle multiple schedules and get your child to and from a remote tutoring site. Our goal is to make the tutoring experience not just highly effective, but highly convenient as well. All of our tutoring is done in your home, and we will work on your schedule, rather than forcing you to conform to ours. In-home tutoring also provides your child or young adult with a safe and comfortable environment, which can be invaluable to the learning process.
5. First-class customer service
Grade Potential is a national tutoring services company, and our entire staff is committed to your complete satisfaction every step of the way. If you have any questions regarding your tutoring services, whether it relates to scheduling, billing, or any other issue, our customer service team is completely dedicated to getting your questions answered and problems resolved quickly, accurately and to your total satisfaction.
Get Your Child or Young Adult Tutoring Help Now
When your child or young adult is struggling with a class or to prepare for a critical entrance exam, time is of the essence — learning problems do not get better with age.
Relying on the school system is not always going to be effective. No matter how knowledgeable or motivated a schoolteacher is, with a class of 15 or 20 or 30, there is only so much time to go around. Seldom, if ever, can it work as well as the personal, professional, one-on-one tutoring experience Grade Potential will provide.
Letting a learning problem linger will only reinforce a child's negative attitude and loss of self-esteem. On the other hand, when children get the help they need quickly, a learning problem can be transformed into a learning opportunity, giving them a real boost in confidence that will help them tackle difficult learning challenges in the future.
How can you tell if your child needs a tutor? This question is not always easy to answer, because children may be reluctant to talk about an academic problem, and parents have a difficult time admitting their child has one. Whatever the reason, because time is of the essence, here are some signs to look for that your child may need a Grade Potential tutor:
When grades are slipping in general or a particular class.
When a teacher reports a decrease in a child's motivation.
When a child needs poking and prodding to do homework, in general or a particular subject.
When a child does a lot of homework in general or a particular class and doesn't seem to be making much progress.
When your child has difficulty articulating basic ideas pertaining to a subject he/she is supposed to have learned, or is in the process of learning.
Grade Potential can help. If you notice any of these signs, or see other signs that your child or young adult is facing an academic challenge, one of our tutors can start turning things around right away.
Serving Houston, The Woodlands, Pasadena, Cypress, Pearland, Sugar Land, & all other areas of Greater Houston!
Houston Scholarship
Grade Potential Tutoring is proud to provide Houston students with the opportunity to win a semi-annual college scholarship of $1,000! We are proud to assist students with their investment in education. Many local families trust us with their educational investment on a regular basis, so we feel great about giving back in a similar way! Click below to learn more about our scholarship program and how to apply.