(602) 788-8867
(480) 998-8867
(623) 878-8867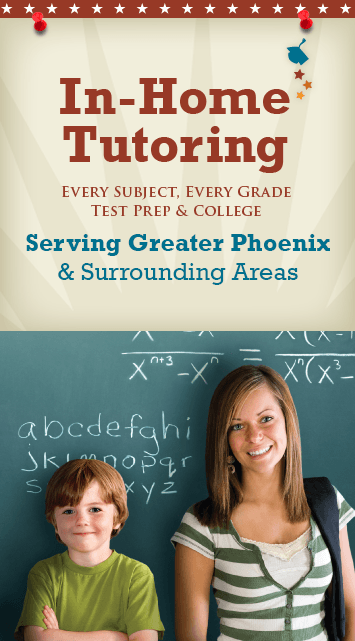 In-Home Tutoring for Greater Phoenix & ALL Surrounding Areas
Top Phoenix Tutors Come To You!
Grade Potential has tutors in place throughout the Greater Phoenix Metro Area, catering to students of all grade levels and in all subject matters. From lower elementary grades to grad school, our tutoring support comes from professionals who know how to help students achieve specific academic goals. We've already worked with thousands of individuals, so we know what it takes to push students toward greater success.
Tutoring on Your Own Schedule
At Grade Potential, we know how hard it is to work around everyone in your family's schedules — that's why we don't ask you to work around our hours, we work around yours. Your tutor comes directly to you at your specific Greater Phoenix Area location, and fits your schedule.
Subjects We Tutor
Extra support can make all the difference in understanding subject matter and performing to the best of your ability. From elementary through grad school, tutoring can empower a student to deal with difficulties and feel confident in the classroom. At Grade Potential, we provide tutors in all subjects and all grade levels. Some of the most popular subjects that we tutor are:
Elementary School Tutoring: All subjects and early learning principles, common core, and more!
Math: Elementary Age, Algebra, Geometry, Algebra II, Pre-Calculus, Trigonometry, Calculus, Statistics, and all others!
English: Elementary Reading, Writing, Literature, ESL, and more
Foreign Languages: Spanish, French, German, Italian, Japanese, Russian, and many others
Science: Chemistry, Physics, Biology, Physical Science, Earth Science, and more
Social Studies: History, U.S. History, World History, Geography, Psychology, etc.
Reading & Writing: Grade Potential provides reading and writing tutoring to students of all ages, from elementary kids to college students.
All College Level Classes such as Economics, Engineering, Computer Science etc.
Personalized Tutoring Catered to You
When you come to Grade Potential for tutoring, you get more than extra instruction in a particular subject matter — you get personalized, one-on-one support catered to your learning style and needs. Our tutors don't treat every student the same or offer the same cookie-cutter methods to each person. Instead, we get to know you in your environment and work to find ways that will help you understand new concepts and ideas. Our team of talented, skilled professionals knows how to work with students to create positive outcomes. That's why the personalized tutoring we provide truly works.
We Come To You
It doesn't matter if you're near Tempe, Glendale, or anywhere else in the greater Phoenix Metro Area, our tutors come to where you are and not the other way around. We will schedule a tutor to show up on your doorstep, at the time and place of your choosing. So, relax and let us come to you!
K-12 Tutoring
If your child is in elementary, middle, or high school, our personal in home tutors bring an academic toolset that leads to success. We have specialized tutors for all subjects and grade levels. Some of our most commonly requested subjects are Math (all levels), Reading & English, All Science classes (Chemistry, Physics, etc.), Foreign Languages, as well as all others! No need to sit in traffic and have schedule anxiety associated with finding and attending a tutoring center or Phoenix learning center. We provide uniquely qualified one-on-one tutors that come directly to you.
College Tutoring
College classes can be tough! Grade Potential offers quality private tutors for all college/university majors and subject areas. Whether you are interested in assistance with a single class or an entire series of classes, we will connect you with the best higher learning tutors around!
Test Prep Tutoring
Knowing how to take standardized tests well is an acquired ability many of us may not have been exposed to--and that's why Grade Potential offers test prep tutoring just for you. It is vitally important to enter the standardized test process feeling confident about your performance, because it counts!. We can arrange a tutor quickly, that can lead you to success with ACT, SAT, LSAT, PSAT, SSAT, STAAR, MCAT, GMAT, GRE, ISEE, ASVAB, and all other standardized tests.
Schools in Phoenix
Phoenix's wonderful schools like Kyrene de la Sierra Elementary School, Explorer Middle School and BASIS Charter School all work to make our students the best. You can contribute by scheduling a tutoring session with Grade Potential Tutoring to make sure your student gets all they can out of their educational experience!
Serving the Phoenix Metropolitan Area and all surrounding cities.
Downtown Phoenix, Arizona
Phoenix Scholarship
Grade Potential Tutoring is proud to provide Phoenix students with the opportunity to win a semi-annual college scholarship of $1,000! We are proud to assist students with their investment in education. Many local families trust us with their educational investment on a regular basis, so we feel great about giving back in a similar way! Click below to learn more about our scholarship program and how to apply.